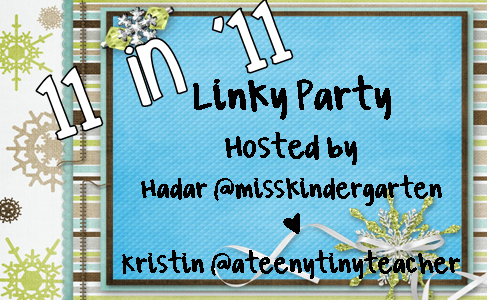 I'm jumping on board to another linky party today. This one is with
A Teeny Tiny Teacher
.
11. Favorite Movie You Watched
It's a toss-up between 2 drastically different movies. Both movies were among my favorite books of all time.
The Help
was one of the best movies that I saw all year. My movie viewing habits have changed over the year. I haven't seen nearly as many as typical. This movie had the perfect balance of humor/sarcasm, emotions, and thought provoking scenes. The book is still better than the movie, but the movie was very well done.
"Harry Potter and the Deathly Hallows" was another must see for me. I've read the entire series and watched all of the movies. This one marked the end of an era for me. A very sad moment as well. I LOVED this movie - good prevailed, there wasn't as much wandering in the woods, and the final battle was amazing.
10. Favorite TV Series
I don't watch a whole lot of television during the week, but I did stumble upon a new series that I have fallen in love with. If you haven't watched it yet, take a chance. I love not only the characters, but the era that this show is set in. This was a time where most women did not work outside the home and for one to travel the world, well, it was exotic. The fashion, the allure, the exotic places all make this show a must for me. I stay up late on Sunday night just to watch it.
9. Favorite Restaurant
We eat out way more than we should at our house. If a favorite restaurant was chosen because of how often we frequent it, it would be Cracker Barrel. But, if it is just based on how well I like it, that is a tough one. So, I can't name one, but I can tell you the type I like the best. I love the hole in the wall restaurants the best. The ones that you get off the beaten path to find. We've found a few of these over the years - The Variety Store in Charleston, SC (best grits by far). If you have a great hole in the wall let me know.
8. Favorite New Thing You've Tried
I've tried a lot over the last year, but I guess my favorite would have to be moving into the world of ebooks. Cheney gave me a Nook for my birthday and I began reading more than usual. Those of you who know me know that is already a lot of reading, but now it has doubled. I always have a book in my hand and now with my iPad, I can read Nook books or books for the Kindle. Wahoo!
7. Favorite gift you received
Hands down the best gift ever! I've told Cheney multiple times, if I can't have kids, at least get me a car that those with kids dream about driving. Thanks for listening, babe! I love my 2 seater convertible!
6. Favorite thing you pinned
There is NO WAY I can narrow it down to one thing!
5. Favorite blog post:
My fave post would have to be
You is Kind, You is Smart, You is Important
. I wrote it at a time where I was climbing up out of a pit of personal attacks by others. I was questioning everything I did and honestly ceased to have an opinion about anything. The words of a 2nd grader and then the movie The Help struck me and would not leave.
4. Favorite Accomplishment
This year, I was asked to be a technology trainer in multiple areas and I have loved that. I'm not sure how many years I have left as a classroom teacher and this is the area that I would like to pursue, so I was stoked when I was asked. Currently, I train teachers in Microsoft Office applications, Windows 7, Promethean ActivInspire, and on the iPad!
3. Favorite Picture
It's not spectacular by any means, but it's my favorite! The day we went to the aquarium, I brought my nice camera, but it had no memory card. So this was taken on my iPhone. I took a chance and entered it into a contest on one of my favorite blogs, The Pioneer Woman, and she chose it as one of her top picks. It didn't make the finals, but I felt honored!
2. Favorite Memory
I cannot choose just one, so here's my bullet list:
Heading to the coast with Cheney for a few days and staying at a 1950s style motel in Murrells Inlet
Going to the LSU ballgame with my dad
Changing schools
Being chosen to host our state superintendent in my classroom
Not necessarily a good one, but my last morning with Cash, our black Weim/Lab mix
1. Goal for 2012
Organize my time better - less work at home!
Exercise consistently
Eat AT HOME!!